Happy Thanksgiving! We're doing a short family vacation right now. Orders for in-stock items will shipped on Monday Nov 26th.
Ships from:

---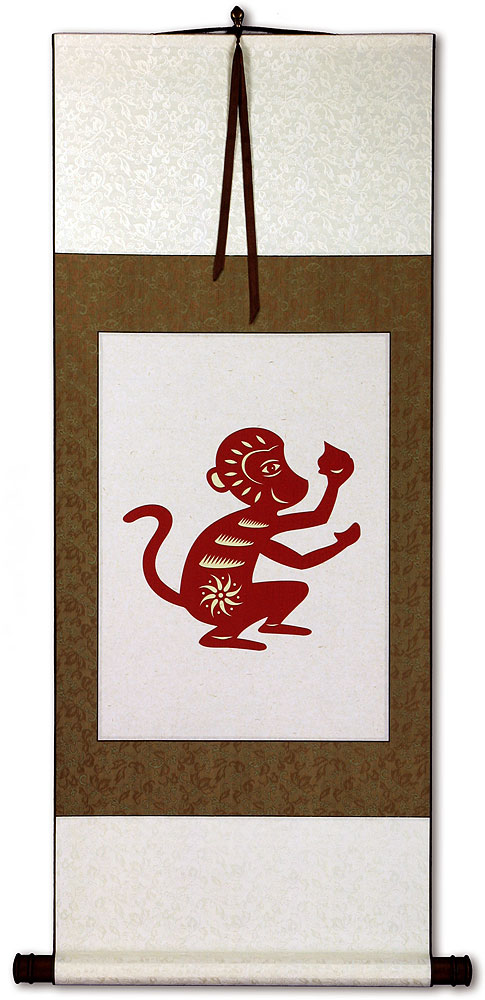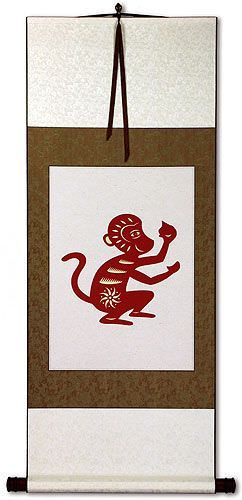 Monkey Papercut Print
This is a print of a papercut monkey image.

In the original form, this kind of image was cut with scissors from a piece of red paper. For many years, prints and posters featuring papercut-style imagery have been popular in Asia. This one is much better than a poster, and the only way to get this kind of image on a wall scroll. This monkey is printed on handmade/hand-pressed Chinese xuan paper with a high-fiber content (you will see natural husks and fibers pressed into this paper). The artwork was then mounted to a handmade two-tone silk brocade wall scroll.

The print was created on a $4000+ Giclee printer. The fine lines and complex geometry would make it impractical to paint this artwork by hand. The dye-based ink used here should give you many years of enjoyment, but please don't hang it in direct sunlight (same rule applies to watercolor paintings etc).
This item was listed or modified
Jan 31st, 2018
Similar Items...
Gallery Price: $89.00
Your Price: $49.00
Gallery Price: $200.00
Your Price: $68.88
Gallery Price: $200.00
Your Price: $78.88
Gallery Price: $200.00
Your Price: $78.88
Gallery Price: $268.00
Your Price: $148.88
Gallery Price: $63.00
Your Price: $35.00
Gallery Price: $63.00
Your Price: $35.00
Gallery Price: $63.00
Your Price: $35.00
Gallery Price: $200.00
Your Price: $68.88
Gallery Price: $71.00
Your Price: $39.00